Resting within the heart of the breathtaking Khumbu region of Nepal, Namche Bazaar is a vibrant and essential stopover for trekkers embarking on the legendary journey to Everest Base Camp. This bustling mountain town, perched at an altitude of 3,440 meters (11,286 feet), not only serves as a gateway to the world's highest peak but also offers an array of unique experiences that make it a destination worth exploring in its own right. There are a lot of things you must do in Namche Bazar.
As you take your first steps into Namche Bazaar, you'll quickly realize that this Himalayan hamlet is far more than just a pit stop; it's a captivating destination brimming with culture, adventure, and natural beauty.
Here are the top 5 things you must do in Namche Bazar
Hike to Shangboche Hill
Standing 3900m high, Shangboche Hill offers you one of the best views of the mountains, throughout the Everest Base Camp trek.
You can reach to the top of the Shangboche hill by hiking for almost an hour. During your hike, you will be feasting your eye with mountains like Kongde ri (6,187m), Thamserku (6,623m), and Khumbila (5761m) during your hike. As you climb up you will get the heavenly view of the mountains like Amadablam (6812m), Nuptse (7861m), Lhotse (8516m), and Everest (8848m).
On your hike to Shangboche Hill, you'll come across the famous Everest View Hotel. This hotel is renowned for offering some of the most spectacular panoramic views of the Everest region. It's a great place to take a break, enjoy a cup of tea or coffee, and soak in the breathtaking scenery. You can relish your hot beverage while gazing at Everest, Lhotse, and Ama Dablam from the hotel's terrace.
It is not only a hike to a certain viewpoint, it is also a very important process called acclimatization. Which will help your body to adapt to the new altitude and weather. Which later on plays a very important role in preventing altitude sickness during your trek.
Sherpa Museum
The Sherpa Museum in Namche Bazaar is a captivating window into the rich heritage of the Sherpa people and their deep connection with the Himalayas. Nestled in the heart of Namche, this cultural gem offers an immersive journey through Sherpa culture, history, and their pivotal role in mountaineering.
Inside, visitors can explore a wealth of exhibits, including artifacts, photographs, and informative displays that trace the Sherpa's origins in Tibet and their migration to Nepal's Khumbu region. The museum also pays homage to the Sherpa climbers who have been instrumental in guiding mountaineers to conquer Everest, showcasing the historical and contemporary mountaineering equipment used in these awe-inspiring expeditions.
Additionally, the museum delves into the traditional Sherpa way of life, their customs, religious practices, and the significance of monasteries in their culture. It's also a place to remember the brave Sherpa climbers who lost their lives on Everest, a poignant reminder of their unwavering dedication to the world of mountaineering. A visit to the Sherpa Museum is a remarkable educational and cultural experience that honors the Sherpa people's enduring legacy in the Everest region.
Visit Namche Bazar Market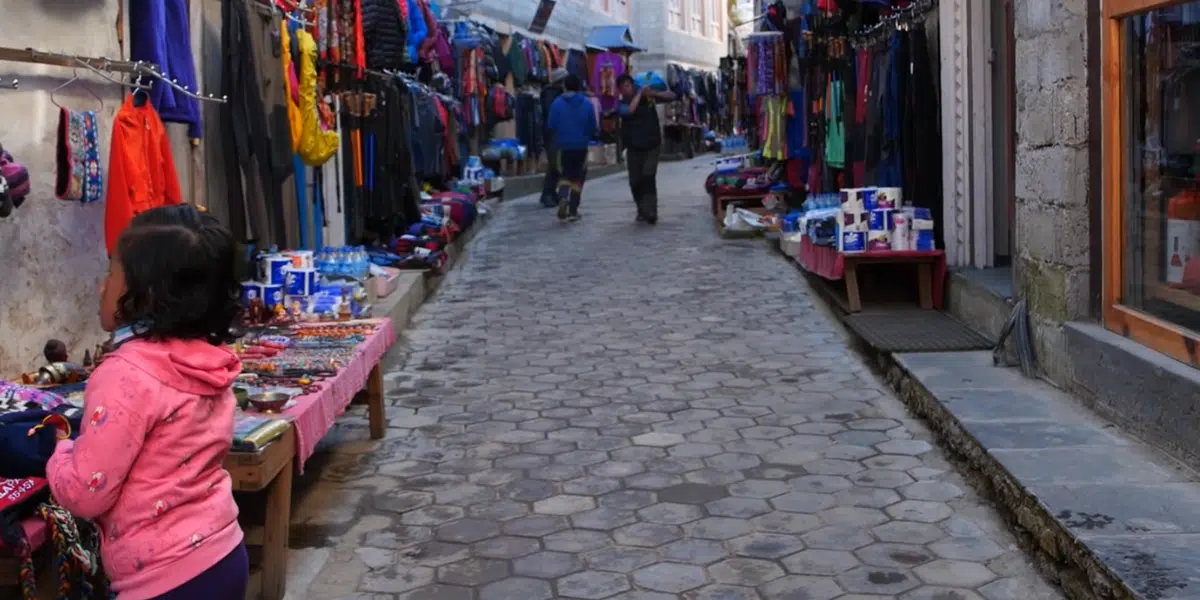 The bustling market of Namche Bazaar is a vibrant hub nestled amidst the breathtaking Himalayan landscape. It serves as both a crucial trading post for trekkers on their way to Everest Base Camp and a fascinating cultural attraction in its own right. Situated at an altitude of approximately 3,440 meters, this mountain town boasts a unique charm and offers an array of things to do in Namche Bazaar.
One of the primary draws of the Namche Bazaar market is its role as a vital supply point for trekkers and climbers embarking on their Everest adventures. Here, you can find a diverse range of trekking gear, equipment, and essentials, making it the perfect place to stock up on anything you may need for your mountain journey. It's not just a marketplace; it's an essential pitstop for anyone venturing into the Khumbu region.
Beyond its practical significance, the market of Namche Bazaar offers a captivating glimpse into local life and culture. Strolling through its narrow, winding lanes, you'll encounter a delightful array of shops and stalls selling traditional handicrafts, Tibetan artifacts, jewelry, and colorful textiles. The market is a treasure trove for souvenir hunters, with items that make for unique mementos of your visit to the Everest region.
For those interested in cultural exploration, Namche Bazaar is home to the Sherpa Culture Museum, a captivating institution that provides insights into the Sherpa way of life, their history, and their integral role in the world of mountaineering. Visiting the museum is an enriching experience that enhances your understanding of the local culture.
Moreover, the market is a fantastic place to savor local cuisine. You can relish hearty Sherpa and Tibetan dishes, such as momo (dumplings), thukpa (noodle soup), and yak meat specialties, at the local eateries and tea houses. It's a wonderful opportunity to immerse yourself in the regional culinary traditions while enjoying the mountain views.
Sagarmatha next
Sagarmatha Next is an innovative and environmentally conscious organization located in Namche Bazaar, Nepal. Established in 2020, this organization has swiftly become a significant player in the region, with a clear mission to promote sustainability and conservation in the Everest region, a place of immense natural beauty and global importance.
The motto of Sagarmatha Next is "Preserve, Educate, Inspire." This succinctly encapsulates their core objectives. They are dedicated to preserving the pristine environment of the Sagarmatha (Everest) region, educating both locals and visitors about the importance of environmental conservation, and inspiring action to protect this fragile ecosystem for future generations.
One of the notable initiatives associated with Sagarmatha Next is its partnership with the Sagarmatha Pollution Control Committee (SPCC). SPCC is an organization established to address the critical issue of pollution and waste management in the Everest region. With the influx of trekkers and climbers, the region faces increasing challenges related to waste disposal and environmental degradation. SPCC, in collaboration with Sagarmatha Next, works tirelessly to implement effective waste management practices, promote responsible tourism, and minimize the environmental impact of tourism activities in the area.
Together, Sagarmatha Next and SPCC are at the forefront of efforts to ensure that the natural beauty and ecological integrity of the Sagarmatha region are preserved for future generations. Their dedication to sustainability and responsible tourism aligns with the global commitment to protect and conserve our planet's most iconic and sensitive ecosystems. Visitors to Namche Bazaar and the Everest region can learn about their initiatives, participate in educational programs, and support their efforts to create a more sustainable and environmentally friendly destination in the heart of the Himalayas.
Pubs, Café and bars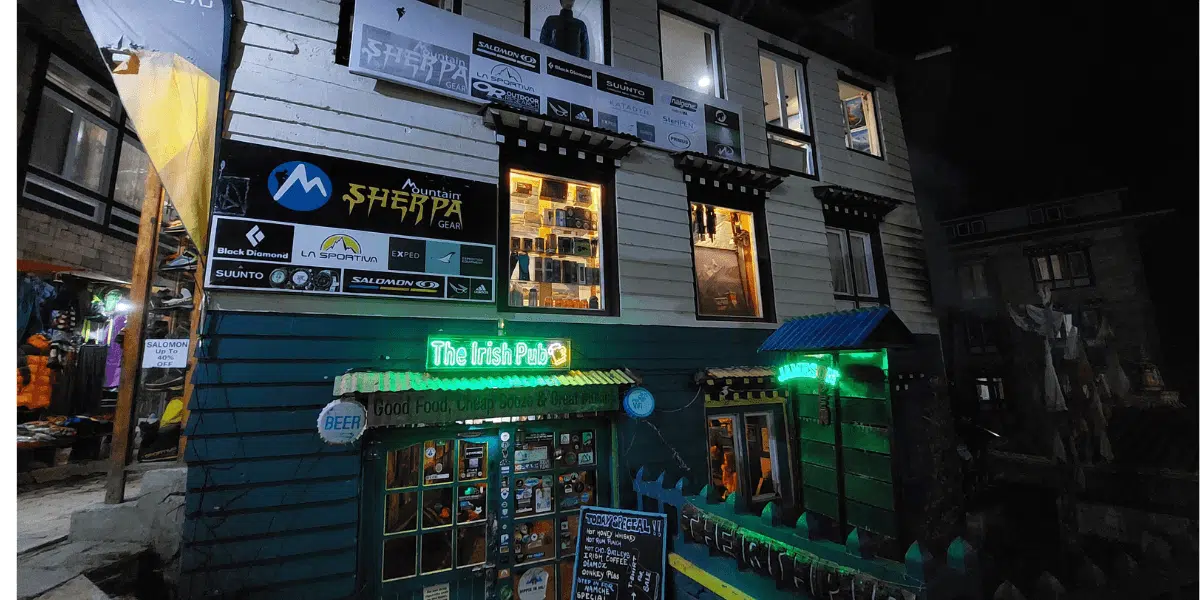 In the heart of the Himalayas, Namche Bazaar offers a unique and tranquil nightlife scene that caters to trekkers seeking relaxation and camaraderie after a day of exploring the awe-inspiring mountains. While it may not be synonymous with the vibrant nightlife of bustling cities, this mountain town provides a handful of charming options for those looking to unwind. Amidst its serene surroundings, here are a few places where you can enjoy a peaceful evening.
Cafe 8848: Named after the towering elevation of Mount Everest, Cafe 8848 serves as a cozy retreat for trekkers. It's an ideal place to relax and connect with fellow travelers over a warm cup of coffee, a variety of teas, or even a chilled beer. Adding to its appeal, the café occasionally hosts live music performances and cultural shows, creating a wonderful opportunity to experience local entertainment while reflecting on the day's trekking adventures.
Everest Irish Pub: Injecting a touch of international flair into Namche's nightlife, the Everest Irish Pub is a welcoming spot for those in search of a convivial atmosphere. While it may not boast the high-energy vibes of city pubs, it provides a friendly setting to share trekking tales and enjoy a beverage. Sampling Nepali and international beers here is a delightful way to unwind after a day of hiking.
It's important to bear in mind that Namche Bazaar is a small and peaceful mountain town. Its nightlife is a reflection of the region's focus on natural beauty and outdoor adventure. While it may not offer the frenetic energy of urban nightlife, these cozy spots provide an opportunity for trekkers to unwind, swap stories, and savor the camaraderie that arises from sharing the incredible journey of trekking through the Everest region.
History of Namche Bazar
Namche Bazaar, a picturesque mountain town in the Solu-Khumbu region of Nepal, has a rich history rooted in trade, agriculture, and mountaineering. Historically, it was a significant trading post on the ancient salt trading route that connected Tibet to the lowlands of Nepal. The town's strategic location made it a crucial stopover for traders and travelers.
Namche Bazaar is a vital highlight of the Everest Base Camp trek. It's like a bustling mountain town in the Himalayas. It's important because it's a hub for trekkers on their way to Everest. Here, you can take a break, acclimatize to the high altitude, and soak in the stunning scenery. Namche offers cozy teahouses, shops, and even a bakery! Plus, you'll experience the local Sherpa culture and get to know the friendly people who call this place home. So, whether you're resting your legs, shopping for trekking gear, or savoring a warm pastry, Namche Bazaar is a must-visit on your journey to Everest Base Camp.
Over the years, Namche Bazaar evolved from a trading hub into a central point for mountaineers and trekkers exploring the Everest region. The establishment of the Sagarmatha National Park in 1976, home to Mount Everest and many other towering peaks, further boosted the area's popularity among tourists. This historical progression has had a profound influence on the lifestyle and economy of the local Sherpa community.
The Influence of Tourism on the Lifestyle of Namche Bazaar's Inhabitants:
Economic Transformation: Tourism has become the primary source of income for many families in Namche Bazaar. The influx of trekkers and climbers has led to the development of teahouses, lodges, restaurants, and shops catering to their needs. This transformation has provided new economic opportunities and improved living standards for the local population.
Education and Awareness: The increased exposure to tourists has also led to improved access to education and awareness. Many young Sherpas have pursued education and training in hospitality and mountaineering, enabling them to engage directly in the tourism industry. Additionally, interactions with tourists have raised environmental and cultural awareness, fostering a sense of pride in their heritage.
Infrastructure Development: The growth of tourism has driven infrastructure development in Namche Bazaar. This includes the construction of better roads, telecommunications facilities, and health services, which have not only benefited tourists but also improved the quality of life for locals.
Cultural Exchange: Tourism has encouraged cultural exchange between the Sherpa community and visitors from around the world. Local festivals, dances, and traditional practices are often shared with tourists, creating a deeper appreciation for Sherpa culture and fostering mutual respect and understanding.
Tourism Growth Over the Years:
Tourism in Namche Bazaar and the Everest region has experienced substantial growth since the mid-20th century. In the early days of mountaineering, expeditions were relatively small and rare. However, following Sir Edmund Hillary and Tenzing Norgay's historic ascent of Mount Everest in 1953, interest in the region skyrocketed.
The construction of Lukla Airport in the 1960s made the area more accessible, leading to a significant increase in trekking and climbing expeditions. Over the decades, tourism infrastructure expanded to accommodate the rising number of visitors. Today, Namche Bazaar is a bustling town during the peak trekking seasons, attracting adventurers from all corners of the globe.
While tourism has brought economic prosperity to the region, it has also posed challenges such as waste management and environmental degradation. Sustainable tourism practices and responsible trekking initiatives have been introduced to mitigate these issues and ensure that the natural beauty and cultural heritage of Namche Bazaar are preserved for generations to come.
In conclusion, Namche Bazaar's history reflects its transformation from a trading post to a vibrant tourist destination at the heart of the Everest region. Tourism has profoundly influenced the lives of its inhabitants, providing economic opportunities, education, and cultural exchange. The growth of tourism over the years has made Namche Bazaar a pivotal point for trekkers and climbers, fostering economic development while also necessitating responsible environmental and cultural stewardship.