"Here are the short details in image that you can save."
EBC trek Short Overview:
Everest Base Camp Trek is a popular trekking route in Everest Region that takes trekkers to the base camp of Mount Everest, the highest mountain in the world. The trek typically takes about two weeks to complete, depending on the pace of the trekkers & route chosen.
During the trek, you will counter breathtaking views of the Himalayas, including the famous peaks of Lhotse & Nuptse, as well as a chance to experience the unique culture of Sherpa people.
It is a challenging level trek in terms of difficulty and needs a good level of physical fitness, but the rewards of summiting the base camp of the world's highest mountain makes it an unforgettable experience. Here are the highlights of Everest Base Camp Trek.
Highlights of Everest base camp trek:
The Everest Base Camp trial is truly a classic nature art. It's quite hard to point a certain highlight of the Everest Base Camp trek, since everyday gives you different experience and takes you closer to nature. If we have to selfish and indicate some major highlights of Everest Base Camp, it would be:
Most popular airport in the world, Lukla Airport
The gateway to Everest, Namche Bazar
Beautiful Hillary Bridge
Exploring Sagarmatha National Park
View from Everest view point hotel
Everest Base Camp
Hike to Kalapathar and panoramic view of Everest (8848m), Nuptse (7861m), and Changtse (7543m)
Exploring the sherpa culture
Tengboche Monastery
Beautiful and unique flora and fauna
World's tallest Mount Everest 8,848m, 4th highest Lhotse 8,516m, 5th highest Makalu 8,481m
Why to trek with Pristine Nepal Treks?
Even though Pristine Nepal was formed on 2016 AD, the company was formed by combination of two very experienced personalities which ultimately lead the company to good success within a very short period of time.
Pristine Nepal Treks is a family of a well-organized, disciplined, co-operative and helpful peoples. We have very experienced guides with humorous and co-operative nature. Check their bio detail of trekking guide if you want.
On top of that these following qualities makes us stand out among hundreds of trekking agencies of Nepal:
Government registered company
Team of highly dedicated and experienced professional
Proper care and monitoring of guest's health (use of oximeter)
Socially reputed company
Top notch services
Commitment to social work/ volunteering in Nepal
No hidden charges
60% of repeat customers
Well-crafted itinerary and package
24-hour assistance from expert
Sustainable and responsible tourism.
Who will come to Pick us at Airport after arrival?
The company's owner, Mr. Chin, would usually attend you at the airport to welcome you. If Mr. Chin isn't available, Pristine Nepal representative will welcome you at the airport instead. We'll arrange a private vehicle for you, to the hotel.
Any Question?
We are active 24/7
Accommodations in Everest Base Camp Trek
The accommodation in Everest region is getting a lot better and better than before. The credit goes to its popularity which attracts thousands of trekkers every year.
The trek offers you the wide range of accommodations from teahouses to the luxurious hotels. You will have the option to choose all sorts of these accommodations that suits your budget and preferences.
The hotel, lodges and tea houses are well-maintained and standard enough to meet the essential needs of the trekkers. You can charge your electric devices, get the hot shower even in higher and remote part of the trail, internet services etc. however it all comes with an additional charges.
In our 14 Days EBC package, you get total of 13 night of lodging on the basis of twins sharing.
You will stay two night in Katmandu (before and after the trek) on the basis of twins sharing with breakfast at a star-category hotel. (Hotel Thamel Park or Hotel Jampa or similar) However, you can stay or opt for the hotel of your choice in Kathmandu.
And during the trek you will get the six night private attached room at Namche (3N), Lukla and Phakding each one night respectively. Rest six night will be in the normal room at Tyangboche or Deboche (1N), Dingboche (2N), and Lobuche, Gorakshep and Pheriche each one night respectively.
Do we get hot shower during the Everest Base Camp trek?
The cold days in trek can be a struggle. So, it is impossible to take cold shower. Up to Namche Bazar you can get hot shower easily. In lukla, Phakding and Namche Bazar you will get a room with attached bathroom, in which you will have the facility of hot shower which is included in package.
After Namche bazar we will be providing normal private room. Then if you want hot shower then the cost is not included in package, you have to pay yourself. It cost from Nepali rupees 200 to 400 per hot bucket shower.
Foods in Everest Base Camp Trek
What kinds of foods do we get offered on the EBC trek?
Everest region is also evolving and trying to catch up with modern world. You can get continental, Indian, Chinese and popular Nepali cuisine easily in Everest region.
The price is totally different from Kathmandu, because the transportation is not very easy in Everest region. As a means of transportation helicopter, yaks and people are only the available options which ultimately makes the prices of food high. Although you will find variety of foods items the taste may not be as good as you get in Kathmandu because of the lack of proper materials.
Our trip package covers three course meals, which are breakfast, lunch and dinner. Any kind of extra food or drinks like desert, snacks or alcoholic beverage is not included.
Breakfast in EBC package:
Our trip package provides you 14 breakfasts in which you get options of cereal items like porridge, oats porridges, tsampa porridge, bread, toast bread with jam, bread with eggs, muesli, pancakes and every basic breakfast possible, with drinks like tea, ginger tea, lemon tea, mint tea, black coffee, milk coffee and hot chocolate.
Lunch in EBC Package:
In lunch you will have a lot of options like continental, Chinese, Indian, and Nepali cuisine which includes Dal vat tarkari (plain white rice, lentil soup and seasonal vegetable curry) which is a perfect balance diet and give you energy for a long day trek.
Foods like pizza, burger, spaghetti, sandwich, potato items such as fried potato, mashed potato, boiled potato, rice items such as fried rice, plain rice, noodles items, meat items such as chicken and yaks meat variety and other western foods.
Since you will be trekking even after eating food so we highly suggest you to eat food with high amount of carbohydrate which gives you energy.
Dinner in EBC Package:
After a long walk you will need to eat some good amount of food to restore the energy for next day. In dinner you will have similar options like in lunch.
Do you have any Food Allergy? Tell Us now
Your Safety is our Top Priority.
Note*: We don't recommend any meat items, dairy products and cake items for Everest base camp trek. All meats are carried on basket at least for three to seven days without refrigerating, it is not allowed to kill any animal in this region.
Transportation for Everest base camp trek
Normally, we use private car for airport picks up and drops. It is only 7 km from Tribhuwan international airport to Thamel. We have two different airport for Lukla flight. We can get domestic ticket from Kathmandu to Lukla from June to September and December to March.
All domestic airlines operate Lukla flight from Ramechhap in April to May and October to November. Ramechhap is 130km from Kathmamndu. So private vehicle on ground and domestic airlines for Lukla are used.
Sometimes, they cannot fly in or out Lukla due to the bad weather. So, helicopter can be an only option during bad weather. But it is very expensive. It cost is $250 to 500 for sharing helicopter in one way. Sharing helicopter is not possible always.
What is luggage weight limit?
On the airport your luggage will be weighed before boarding to the plan. The weight limit is up to 10kg luggage and 5kg hand-carry. Exceeding more than this weight will incur additional fees, which you are responsible for paying.
Porters for Everest Base Camp trek
We use porter from Lukla. Mostly porters are from mountain region. They are strong, honest and experienced in this trek. We have been using those porter who they did not have opportunity to go to school and now facing difficulties and really need a job.
What are the permits required for Everest Base Camp Trek?
For Everest Base Camp trek you need two different kinds of permits which are as follows:
Sagarmatha National Park Permit (NRS 3000 per person), Monjo
Local Rural Municipality Entrance Permit (NRS 2000 per person), Lukla
Required documents for the permits
You need to give your passport details to the local authority in Lukla and Monjo to issue these permits. After obtaining these permits, you must check in at the checkpoint, which is situated nearby.
Do the agency issue the permits for me?
Yes, your guide will arrange and obtain all the necessary permit for the trek. You don't have to worry about the permits or any documents for trekking.
During Departure, who will assist me in the Airport?
During departure, a private vehicle will be arranged for you in time. You can have your own choice if you want an assistance or not. Usually, Mr. Chin will go himself or he will send your guide with you.
Where can I store my luggage in Kathmandu?
The hotel where you are staying will safely keep any items you might need to leave behind before beginning your Everest Base Camp trek. After finishing the trek, you can get your items back from the hotel.
How do I get On-Arrival Visa for Nepal?
You can obtain tourist visa on-arrival at the Tribhuvan international airport under department of Immigration.
However, Indian nationals doesn't require visa and some countries – Nigeria, Ghana, Syria, Iraq, Zimbabwe, Swaziland, Somalia, Cameroon, Afghanistan cannot get On-Arrival visa. They have to acquire the visa prior their arrival from their nearby embassy. For SAARC and Chinese nationals visa is issued for free of cost.
On Arrival Visa Fee:
15 Days – 30 USD
30 Days – 50 USD
90 Days – 125 USD
To issue the visa you need to fill the form online or may use kiosk machine which are available inside the arrival hall. You need two passport size photo for this.
What happens if the Lukla flight is delayed?
There are several scenarios if a flight to or from Lukla is delayed.
If the bad weather caused the delay, the flight will be rescheduled for the following day when the weather is clear again. Trekkers may need to stay an extra day or two until the flight can take off.
If the flight delay is due to technical issues with the plane, the airline may try to fix the problem and reschedule the flight for the same day. Alternatively, the trekkers may be asked to wait until the next day or until a replacement plane arrives.
If the delay is due to other unforeseen circumstances, the airline may provide compensation or refunds to the trekkers. However, this is not always the case and it is best to check with the airline's policies and terms and conditions.
In any case, trekkers should be prepared for flight delays and make sure they have enough supplies and backup plans in case of unexpected delays.
Want to Book You Ticket Early?
Guarantee Booking Available
What is the best time to trek to Everest Base Camp?
Nepal is for all season but out of four seasons, Autumn (September to November) and Spring (March to May) is considered most favorable and best season to execute Everest Base Camp trek.
Mostly trekking season kicks off in late September as the monsoon ends. June to august offers great green views of lower Himalayan region and best temperature for trekking.
Everest Base Camp trek during Autumn season
The autumn season, which lasts from September through November, is the ideal time to trek to Everest Base Camp because of the clear skies, dry days, pleasant temperatures, and fresh air.
Advantages of doing Everest Base Camp trek in Autumn.
Dry days, clear skies, comfortable temperature and fresh air.
Panoramic mountain views
Better prices in trip package
Less chance of snowfall
Chances of seeing Nepal's greatest festival Dashain and Tihar
Disadvantages of doing Everest Base Camp trek in Autumn.
Since, it is trekking season it might be quite crowded
Weather is a little colder than spring season
Everest Base Camp trekking during Spring season
The spring season which, lasts from March through May, is also a very favorable season for Everest Base Camp trek. With the warm weather and rhododendrons on the trails, it feels like being welcomed by nature. During this period of time the day is longer which allows you to explore the trail more and gives you good visibility in early morning as well.
Advantage of doing Everest Base Camp trek in Spring
Longer days to explore trail more
Clear skies providing good mountain views
Beautiful trails with rhododendrons and other flowers in bloom
Good visibility in the early morning
Comfortable temperature
Less chance of rain and snowfall
Disadvantage of doing Everest Base Camp trek in Spring
Nights might be quite cold
The trial may be little bit crowded since it is a trekking season
Everest Base Camp trek during summer season
If you love challenges and you want to go extreme then Everest Base Camp trek during winter may be a thing you should try. From any angle mountain region of Nepal looks beautiful. Of course, it is going to be challenging, so you should prepare yourself extra for this exclusive trek.
Advantage of doing Everest Base Camp trek in Summer
Less crowd, you could have a quality time
Best temperature for trekking
Green hills views
Observing flora and fauna
Disadvantages of doing Everest Base Camp trek in Summer
Rain may cause some difficulty
The temperature rises remarkably
Everest Base Camp trek during Winter season
This time is a lot more comfortable than summer season. Though the weather is chilly it is possible to trek to Everest Base Camp.
Advantages of doing Everest Base Camp trek in Winter
Less crowd, more space to enjoy in Himalayas
Prices in trek and flights tends to drop a bit low
Spectacular view
No bugs and insects
Might encounter rare wildlife
Disadvantages of doing Everest Base Camp trek in Winter
The nights can be quite cold
Fast blowing wind during days
Days are shorter
Everest Base Camp Trek itinerary:
Here is an outline itineary of this popular Everest Base Camp Trek which takes 14 Days to complete. It also includes 2 acclimatization day which is very important to have in EBC trek.
Day 01: Arrival in Kathamndu City & Transfer to Hotel (Inside Thamel area)
Day 02: Flight to Lukla & Trek to Phakding (Flight will be from either Kathmandu or Ramechhap)
Day 03: Trek to Namche Bazar (Approx 6 hours trek)
Day 04: Acclimatization day in Namche Bazar (Visit Syangboche 3,800m for Mt. Everest View)
Day 05: Trek to Deboche via Tyangboche (3,860m altitude)
Day 06: Trek to Dingboche – 4,450m altitude
Day 07: Second Acclimatization Day in Dingboche
Day 08: Trek to Lobuche – 4,910m altitude (Approx 6 hour walk)
Day 09: Trek to Everest base camp 5,364m via Gorakshep 5,180m and back to Gorakshep for an overnight
Day 10: Hike to Kalapathar 5,545m early morning – 1:30 hours for sun rising view, Back to Gorakshep and trek down to Pheriche 4,200m
Day 11: Trek to Namche Bazar 3,440m – 7 hours
Day 12: Trek Back to Lukla
Day 13: Fly to Ramechhap/Kathmandu and drive to the hotel
Day 14: Departure from Kathmandu to home
Want to Customize your Trek?
We are flexible!
Cost Details of Everest Base Camp Trek
The cost of an Everest Base Camp trek varies depending on factors such as the duration of the trek, the route taken, the type of accommodation and transportation used, and the number of porters or guides hired. Here is are the services that your cost cover in this 14 Days Everest Base Camp Trek.
What is inclusion in EBC trek package?
Two nights hotel in Kathmandu on basis of twin sharing with breakfast
Airport Pick-Ups & Drops
Kathmandu – Lukla – Kathmandu flight tickets (June to September and December to March)
Ramechhap – Lukla – Ramechhap flight tickets (April to May and October to November)
Kathmandu – Ramechhap – Kathmandu private vehicle
Lodge accommodation during trekking (5 nights attached bathroom 1 night at Phakding, 3 nights at Namche and 1 night at Lukla, 6 nights common twin sharing bedroom) Hot shower with attached bathroom
Meals: Breakfast, lunch and dinner with tea or coffee cup
Seasonal fruits with dinner
An experienced trekking guide
An assistant trekking guide if more than 6 people in a group
An Experienced porter for two trekkers from Lukla
Sagarmatha national park entrance fee
Pasang Lhamu Rural municipality entrance fee
Water purification tablet
A comprehensive medical kit
Pristine Nepal Treks duffle bag for trekking
Pristine Nepal Treks T-Shirt as a souvenir
Coordination in emergency cases
All paper work
A farewell dinner at Nepali restaurant
What is not included in EBC trek package?
International flight
Nepal visa fee (US$ 30 for 15 days, US$ 50 for 30 days)
Tips to guide, porter and driver
Personal expenses such as WiFi, hot shower except for attached bathroom, snacks and desert, soft and hard drinks
Extra nights stay in Kathmandu in the case of early arrival and late departure
For full details about the EBC cost, we have "Everest Base Camp Trek Cost | Complete breakdown".
Everest Base Camp Trail Map:
Kathmandu is the starting point as well as the ending point for the Everest Base Camp trek. The EBC map is designed according to the itinerary. Some popular mountains are also listed on the map for easy reading.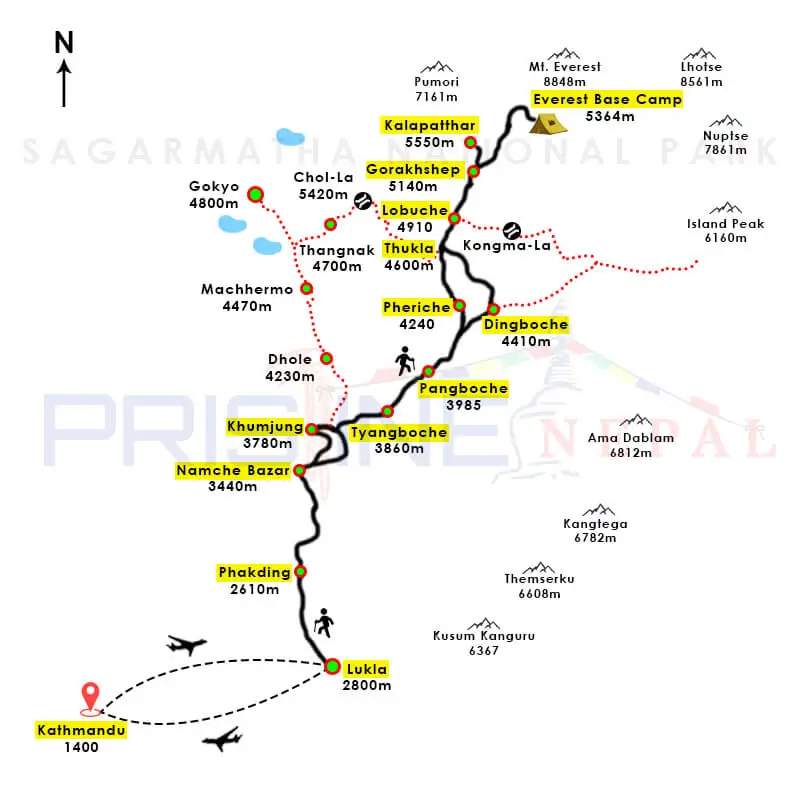 Things To Pack For Everest Base Camp Trek:
Here are the essentials gears you need to pack for your Everest Base Camp Trek:
Essential clothing items for Everest Base Camp trek:
Down jackets
Trekking boots
Long sleeve t shirts
Gortex waterproof, windproof jackets
Hiking socks
Beanie
UV rays protected sun glasses
Nylon wind proof pants
Water bottles
Gloves
Hat
Neck gaiter
Essential trekking gears and supplies for Everest Base Camp Trek
Duffle bag (It is provided by us without extra charges if you trek with us)
Minimum 40L daypack for carrying essential items during the trek
Water bottles or Camelbak (Hydration bladder)
Sleeping bags
Trekking poles
Quick dry trekking towels
Essential toiletries during Everest Base Camp Trek
Toilet paper
Soap
Shampoo
Diaper rash cream
Toothbrush & Toothpaste
Sunscreen
Lip balm
Wet wipes
Hand sanitizer
Hair brush
Foods and Snacks
Snacks (which includes chocolate bars and Protein & carb containing foods)
Thermos (For storing hot water for longer time)
Re hydration powder (To stay hydrated)
Important Documents
Passport (It is needed for entry gate registration)
Visa
Travel insurance
Additional Supplies for Everest Base Camp Trek
Portable solar charger/power bank
Playing cards or any other games
DSLR cameras
Book
In this short packing list for Everest Base Camp Trek some items are provided by Pristine Nepal and some are not. Which is clearly mentioned in Cost inclusion and exclusion chart.
Want Us to Send Checklist?
Special Advice From Professional Guide
Everest Base Camp Trek Difficulty:
Everest Base Camp trek is considered a challenging trip. The high altitudes, cold temperatures, trekking durations and rugged trails and terrain makes the trek a bit challenging for any kinds of trekkers.
Without a proper training and guidance it will add more difficulties. Hence you have to be physically, mentally and spiritually fit to do the Everest trek.
You have to walk 4-6 hour daily on average while at the same time gaining elevation each day. Therefore, even seasoned hikers may find the trail challenging. Moreover, the treeline ends at Pangboche village (3,985 m), where there is a considerable drop in oxygen levels.
Therefore, if you are planning for the Everest base camp trek you have to be well prepared prior to hitting the trail to avoid any difficulties on the trek.
Preparation for Everest Base Camp Trek:
There is two effective way to prepare for Everest Base Camp trek-Training and Guide. Training for Everest Base Camp includes building your stamina whereas Guide for Everest Base Camp means getting the top-notch tips from professionals.
To make it easy to understand, I will only highlight the main points to prepare for the Everest Base Camp trek.
a) Preparing EBC trek by Training:
Training for Everest Base Camp means building your stamina. Without any stamina to walk further, you will never complete your EBC journey. Thus, here are some exercises that you can try to prepare for the EBC trek:
Short hiking
Cycling
Jogging
Running
If you want detailed information about how you can maximize your stamina then check our "How to train for EBC trek for beginners" guide.
b) Preparing EBC trek with tips:
If you are like me who always seek information before heading to the destination then the idea of "50 best tips for EBC" may sound awesome. Why not right? It's all for success. However, I will only point out the best and most used tips among those 50 tips.
Here are the most used tips in Everest Base Camp Trek:
Always walk slowly & Be hydrated
Bring Extra Nepalese currency with you in trekking
Pack your backpack light & important gears only
Avoid any hard drinks during the trekking
Choose the best time to trek Everest Base Camp
Always start your trek early
All pros and beginners follow these tips. If you are new to trekking then you might also like "Top 7 beginners tips for 2022"
How fit should I be for the EBC trek?
You should have moderate level fitness for the Everest trekking. Additionally, becoming mentally and spiritually fit is just as important as becoming physically fit. If you have any prior hiking or trekking experience, the better. We advise you to engage in cardiovascular and aerobic exercises like running, swimming, yoga, etc.
Can a beginner complete the EBC trek?
Of course. With proper fitness, right mindset and guidance anybody can do this trek. Altitude is the major difficult factor during the Everest trek. However, you have to walk slow and steady to cope with the higher altitude. Be sure to take in a plenty of fluids and listen to your guide instructions.
Want to know Secret about Training Tips?
Pro Tips From Trainer
Can I pre-book the Everest Base Camp Trek?
Yes. You can easily make reservation or online booking through our website depending on the time you have on your disposal. Fill out the form in our contact or inquiry section, which is accessible on the package, and submit it to us. We will respond to your mail within 24 hours.
To confirm your booking, you will need to pay US $300 of the total price (this is for to confirm and book the Lukla flight ticket) and the rest can be paid in Kathmandu. Also, you need to send us your passport scan-copy, and passport size photos.
Online Payment System
We have quick, easy and secure online payment gateway system in our website. Find the online payment portal which is located at the top/header of our website or it is available inside the package too.
Everest Base Camp Trek Acclimatization?
Altitude sickness is the most common questions to all the trekkers doing the Everest trek. Most of the time you will be trekking at elevations exceeding 3000 meters. The highest point we will reach is Kalapatthar, which is 5,545 meters. Hence, we need proper acclimatization for the EBC trek.
We have allocated two days of acclimatization at Namche on the third day and at Dingboche on the sixth day of the trek respectively. These two days are the crucial as it helps to adjust your body to the ascending altitudes throughout the trek.
Our guide will check your oxygen level and heart rate (using oximeter) each day to ensure your safety from the altitude sickness.
We encourage you to drink plenty of fluids to prevent any possible altitude symptoms. Also, walk slowly and maintain your breathing. And, do not hesitate to let your guide know if you are having any difficulties.
What are we doing in the rest/acclimatization day?
At rest day in Namche, after breakfast you will first go to Tenzing Norgey Sherpa memorial park. Further, hike to the Everest viewpoint to catch the glimpse of Everest, Lhotse, Nuptse, Amadablam and many others.
In the meantime you will also be going to the highest situated Hotel Everest View (3,962m/13000ft) for a tea break. Return back and you can explore the Namche Bazar thoroughly.
At Dingboche you will be hiking to Nangkartshang peak (5,121m) which is a 2-3 hours hike. The top offers you the stunning view of Island peak, Lhotse, Amadablam among many others.
Can I add extra days for acclimatization?
Basically, two days are allotted for acclimatization in the standard Everest Base Camp trek plan. However, in case you need extra days then we can prepare the trip plan according to your request. Additionally, if you encounter any problems or difficulties while on the trek, we can extend the trip duration for an additional cost.
How to prevent altitude sickness During Everest Base Camp trek?
During the trek you will be achieving the altitude of 5545m. Which is a remarkable altitude. If you commit this high altitude without proper preparation then, the mountains will not be very friendly.
There is a difference between dehydration headache and altitude sickness. Both will cause you headache but there is big difference between two of them. You can continue after a dehydration headache also after some care and medicine but if you catch altitude sickness then we suggest you to descend as soon as possible and concern to hospital.
Here are some useful tips to prevent altitude sickness during Everest Base Camp trek in Nepal:
Avoid ascending more than 500m a day
Slow and steady wins the race
Have a rest day after gaining the altitude of 600 to 900m
Avoid flying directly to high-altitude areas
Drink plenty of water and don't let yourself feel thirsty. If you feel thirsty then understand that you are slowly getting dehydrated.
Strictly avoid alcoholic products and smoking
Consume a high-calorie diet
Avoid exposure to extreme sunlight
Have a Doubt About your Health?
We got your Back
How cold will be my room on the trek?
The Everest region is one of the high altitude treks, thus the rooms there will be cold most of the time, especially in the morning and evening. However, the lodges or teahouses provides you an additional sheet of blankets on requests. You need to carry sleeping bag -20 degree for this trek. Either you can bring with you or you can rent in Thamel.
Do we get laundry facility during trek?
Normally you will not have laundry facility during the trek. So, we suggest you to bring at least 4 t-shirts and a down jacket for the trek. Up to Namche bazar you can get your t-shirt washed on the acclimatization day but the drying part depends upon weather. So, it might not be very reliable.
Do we get Wi-fi or internet facility during trek?
WiFi and internet facilities are available in Everest region. Neither wi-fi nor mobile data is reliable in the Everest region. You can pay and get wi-fi in every hotel but it is not really useful.
Everest link and air link are widely used sources for the Wi-fi in Everest region.
Can we drink tap water during trek?
The water in Everest region comes from the Himalayas. Even though if the water looks very clean, it is not a very good idea to drink water from the tap during trek. First thing is the water is very cold and it might contain bacteria. It can cause you stomach pain and diarrhea during trek.
So as an alternative you can use water purifying tablet to filter the water and consume it after 30 minutes. Hot water is also available at every in every hotel. We suggest you to drink warm water.
Even the water coming from river and waterfall are also not safe to drink. You can buy mineral water on the way. Since we discourage plastic use, we suggest you to buy a portable water bottle and re use it.
Other Useful FAQ of Everest Base Camp Trek
Here are some other useful FAQ of Everest Base Camp Trek that you may find useful.
Can I get refund if I don't finish my trekking?
We apologize if you don't finish your trekking. We cannot refund because we pay for all permits, guides, porters, Lukla tickets in advanced.
How much money should I bring extra for Everest base camp trek?
You need some extra money always even you are buying package. You need to pay for your personal expenses such as hot shower, snacks and deserts, bar bills, WI FI internet, foods except for during trekking, tipping to guide and porters, emergency cases such as altitude sickness, natural disaster, flight cancelation etc. Keep US$500 extra with you.
During Early arrival and late departure in Everest base camp trek:
It is absolutely fine if you are coming early for Everest base camp trek. We will pick you up from the airport and bring your hotel. Pay yourself for your extra night in Kathmandu.
And it is fine too if you have late departure. We will drop to the airport three hours before your flight whenever you go. Pay yourself for extra nights in Kathmandu.
Does trekking guide speak English?
All of our guides speak English. They are all seven years plus experienced in this Everest base camp trek. Some of our guides have more than 15 and 18 years experienced here. They are highly dedicated and experienced, friendly and hard working person.
We use porter from Lukla. Mostly porters are from mountain region. They are strong, honest and experienced in this trek. We have been using those porter who they did not have opportunity to go to school and now facing difficulties and really need a job.
How long do we need to walk per day during our Everest Base Camp trek?
The cost of an Everest Base Camp trek varies depending on factors such as the duration of the trek, the route taken, the type of accommodation and transportation used, and the number of porters or guides hired. Here is are the services that your cost cover in this 14 Days Everest Base Camp Trek
Want us to send you Weekly Updates?