The popularity of the Everest Base Camp trek is rapidly increasing like wildfire. Due to its unreal mountain beauty and unique culture Everest Base Camp has become a dream destination for many travelers. This journey to the Himalayas leaves you with memories to cherish for a lifetime. The trek to Everest Base Camp starts with a scenic Lukla flight.
About Lukla Airport
Lukla Airport (also known as Tenzing-Hillary Airport) is the airport located in Lukla, Nepal, and serves as the main gateway for trekkers and climbers heading to the Everest region. Lukla Airport is known for its challenging location and short runway, which makes it susceptible to adverse weather conditions, especially during monsoon season.
Spring and autumn are considered the peak trekking seasons in the Everest region. During these periods (around March to May for spring and September to November for autumn), the weather is generally more stable, and the chances of flights being canceled or delayed due to adverse weather conditions are lower compared to monsoon season. Excellent visibility of the stunning Himalayan peaks, colorful rhododendron, and other wildflowers in full bloom makes this time one of the best times for the Everest Base Camp trek. It adds to the scenic beauty of the trek, making the journey even more enjoyable.
However, even during spring and autumn, flight schedules to Lukla can still be affected by weather conditions, and it's essential to keep track of updates from the airlines and local authorities. Trekkers and climbers are often advised to have some flexibility in their travel plans and to allow for extra days in case of flight disruptions.
Who operates Lukla Flight?
Lukla flight is operated by 3 Nepali airline companies at the moment. They are Sita air, Sumit air, and Tara air. Normally each airline operates service with 2 aircraft with a maximum capacity of 17 passengers. But in case of technical difficulties, they might operate only one aircraft.
Why can't we fly from Kathmandu to Lukla directly during peak season?
Generally, flight to Lukla is operated from either Kathmandu Airport or Ramechhap Airport. After September 25, we have to fly from Ramechhap to Lukla. During peak season time the flow of tourists is very high, around 700 to 900 people fly to Lukla in a day during the first and second week of October.
A round trip from Kathmandu to Lukla will take around 3 hours' time minimum. And due to the high volume of air traffic in Kathmandu, it takes more than 3 hours for a round trip. So, they can't even transport 50% of the people to Lukla. Having limited aircraft makes it impossible to fly from Kathmandu directly to Lukla during peak season time. With a limited number of aircraft that can carry a maximum of 17 people at a time, and flights are operated only in daylight and the best weather time, it is not possible to fly from Kathmandu to Lukla directly in seasonal time.
But if we fly from Ramechhap airport the round trip from Ramechhap to Lukla will take around 45 to 50 minutes maximum. So due to the short flight route, we can easily transport travelers to Lukla airport. Ramechhap Airport won't have any other flights it is only for Lukla. Sometimes, it has a Kathmandu flight.
What is the best time to book a Lukla flight?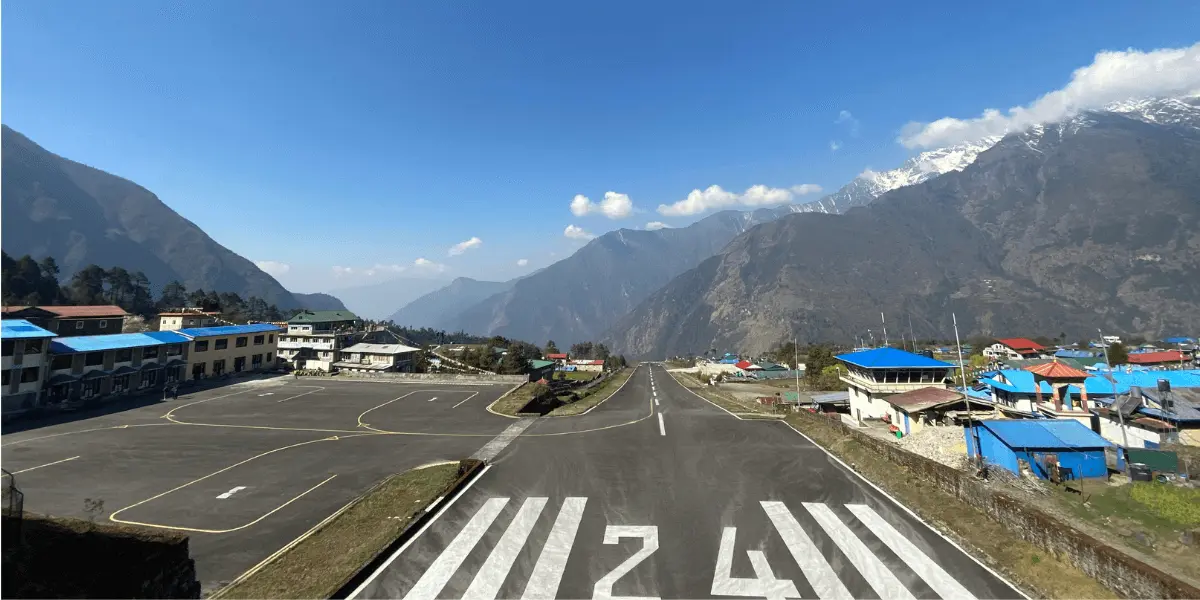 As we know spring (March to May) and autumn (September to November) are known as trekking seasons in Nepal.
According to our recent observation and experience during autumn, September is less crowded and we can get direct flights from Kathmandu to Lukla but after 25 September the flight is operated from Ramechhap normally. In October, the first and second week is very crowded so it is better to book a Lukla flight after October 15. Nearly 700 to 900 people fly to Lukla in a single day during the first and second week of October and the first two weeks of April according to Khumbu Pasang Rural Municipality. Looking at the number we can imagine the crowd.
During Spring, the first week of April is quite crowded because this is the time when the expedition team departs for the summit. The family members and friends of the expedition team follow them to Everest Base Camp and wishes them luck for the expedition, due to this reason also there is more Lukla flight during this time.
So, after mid-April, it is a good time to book a Lukla flight.
What will happen if my flight is delayed due to bad weather conditions?
Your flight to Lukla can be delayed due to two reasons, either due to bad weather conditions or technical problems in the aircraft. In both cases, the respective travel agency is not responsible by any means. Lukla's weather is always unpredictable. Travel agencies have no authority in airports. If anything happens and your flight is delayed then we have to wait patiently, we can't blame any respective travel agency or guide.
If the weather is bad in Lukla then the flights are kept on hold. Lukla Airport does not have runway lights, which means that flights can only take off and land during daylight hours. Typically, flights start operating shortly after sunrise and cease late afternoon. So, if the weather clears till daylight, then the flight will resume but if the weather doesn't improve, then your flight will be postponed for the next day. You will be queued for the first flight the next day. But if the weather condition is still bad then you will have to wait a few more days.
If there is a technical problem in the aircraft then we might have to wait till the problem is fixed or if the problem is not fixed and needs more time then another airlines plane will fly you to Lukla if available. This condition is only applied if the weather condition is good.
But if you are flying to Lukla directly from Kathmandu and your flight gets delayed due to bad weather conditions or technical problems then your flight will be scheduled for the next day but unlike Ramechhap airport, you will not get a first flight. You will have to wait till all the flights are done and then you will get your turn.
Similarly, in Lukla airport if the flight is delayed due to bad weather conditions or a technical problem and your flight is postponed to the next day, you will have to wait till all the flights are completed then only you will get your chance.
So, we recommend you have some extra days, in case your flight is delayed.
Alternative Choice: Helicopter service in Everest region.
Helicopter service is a widely used transportation service by tourists as well as local people for various purposes. Helicopter sightseeing tours are popular in the Everest region. Tourists can take scenic flights that offer breathtaking views of the Himalayas, including Mount Everest. These tours usually depart from Kathmandu and may include stops at places like Lukla, Kalapathar, Gorakshep, and other notable landmarks in the region.
But Helicopters are essential for emergency medical evacuations (medevac) in the Everest region. If trekkers or climbers suffer from altitude sickness or other serious medical issues, helicopters can be called in to airlift them to a lower elevation where they can receive proper medical attention.
There is a very rare chance you can get a helicopter flight from Lukla to Kathmandu early in the morning during peak season. Only in case of extreme emergency. But still, you will have 1 to 2 hours of stopping at Lukla at any cost. During seasonal time Lukla to Kathmandu flight can cost you 500$ per person for a shared helicopter.
Emergency rescues are always prioritized over helicopter tours.
Why does the helicopter price differ from time to time in the Everest region?
Helicopter prices can vary based on the level of demand for helicopter services in the Everest region. During peak trekking seasons like spring (March to May) and autumn (September to November), when more trekkers and climbers visit the region, the demand for helicopter services tends to increase. Because there is a maximum chance of getting sharing a helicopter and if you split the price then ultimately the helicopter price will be cheaper. Similarly, during seasonal times most of the helicopters are dedicated to rescue services. So, they have to fly empty from Kathmandu to Lukla. In those cases, you might get a helicopter flight at a very cheap rate as well.
You can hire a helicopter and pay by sharing or booking for yourself only. Reserving a helicopter by yourself can cost you more than sharing. Sometimes helicopter can cost you cheaper in some cases. If the helicopter is going for rescue, then they have to fly empty so, the helicopter operates at a quite low price in these situations.
The helicopter set base at Lukla and stay there for October November April and May. During this time, they set the base at Lukla and operate from Lukla. So, even if you are at Gorakhshep and you need a helicopter to Lukla. A helicopter has to come from Lukla. Because Lukla is the only place where helicopters set their base. Due to this reason, helicopter flights are expensive.
Why is Lukla's flight ticket more expensive?
Due to its difficult mountain en route, they can not operate big aircraft. They need perfect and only day flight. There are only three airlines and only two small aircraft from each airline for flight.
Why can't we directly fly to Kathmandu from Gorakhshep after completing the Everest Base Camp trek?
Heli copter flying from Lukla to Gorakhshep are not allowed to fly with a full fuel tank. They only fill half of the fuel tank and fly to Gorakhshep. This is because of the air pressure, altitude, and weight issues. So, the helicopter has to stop at Lukla at for refilling the fuel.
But during seasonal time all the helicopters are dedicated to rescue service. As we know rescue operations are prioritized over helicopter tours so getting a helicopter flight from Lukla to Kathmandu during seasonal time is not possible. They finish all rescues, mountain flight from higher mountain areas to Lukla, and fly to Kathmandu in the afternoon.